Garden Room Build Process
Build Process
On this page we'd like to walk you through a typical garden room build process.  In this example the building is 4.3m x 3.2m externally, features a 500mm canopy to the front and a small composite decking step.  The building is finished in western red cedar and has 2.4m wide sliding doors to the front and a full height 0.9m wide window to the side elevation.
SIPs panels arrive on site.  Above are the 150mm roofing panels that provide an outstanding insulation U-Value of 1.7 W/(m²K).  All panels are pre-cut to size for fast construction.
Foundations are accurately laid out.  In this example we have used hybrid steel pads with screw piles beneath.  Ground screws are also commonly used.  We assess each site to ensure the best foundation system is used.
Floor panels are laid on the foundations with breathable membrane and minimum 50mm air gap underneath to prevent moisture rising.  All panels connected with joists that are screwed, nailed and glued for strength.  All joins are also filled with unsulating foam to add to thermal performance.
Walls are completed and the front canopy begins to take shape.  
Breathable membrane applied to walls to allow moisture to leave the building but to prevent ingress.  Treated battens applied to exterior.  The battens are used to support the external finish but also allow air to circulate further allowing the building to breathe.  Rubber roof membrane loosly fitted to protect from weather.
2.4m UPVC sliding door and full hight 0.9m side window fitted.  Many other types of doors and windows are available, but all is double glazed and meets high insulation standards.
Western red cedar cladding fixed to battens leaving air gap behind. More information on choice of finishing is available here.  In this example the cedar is mounted vertically but horizontal boards are also available.  A gap is left between the cedar and the grass to reduce the effect of rainwater splashing up onto the wood and a neat trim is applied below.
Cedar completed and 3 board grey composite decking step added.  Composite decking is a good choice because it is low-maintaininace.  The dark grey colour in this example neatly compliments the anthracite grey colour of the sliding doors.
Finally it stopped raining and we were able to securely fit the EPDM rubber roof and fascia boards.  At the rear a gutter has been fitted and a water butt to conserve water.
Two coats of protective UV oil applied to cedar.  The cedar will turn an attractive grey eventually but Osmo UV protection oil significantly slows this process and enhances the colour of the cedar.
Internal battens fitted to provide an air gap and a void for hiding wires.  First fix electrics have been completed.
Interior panels fitted. In this example mdf was used as an interior finish but melamine and plasterboard with a skim coat are other options.  Skirting and architrave have been fitted.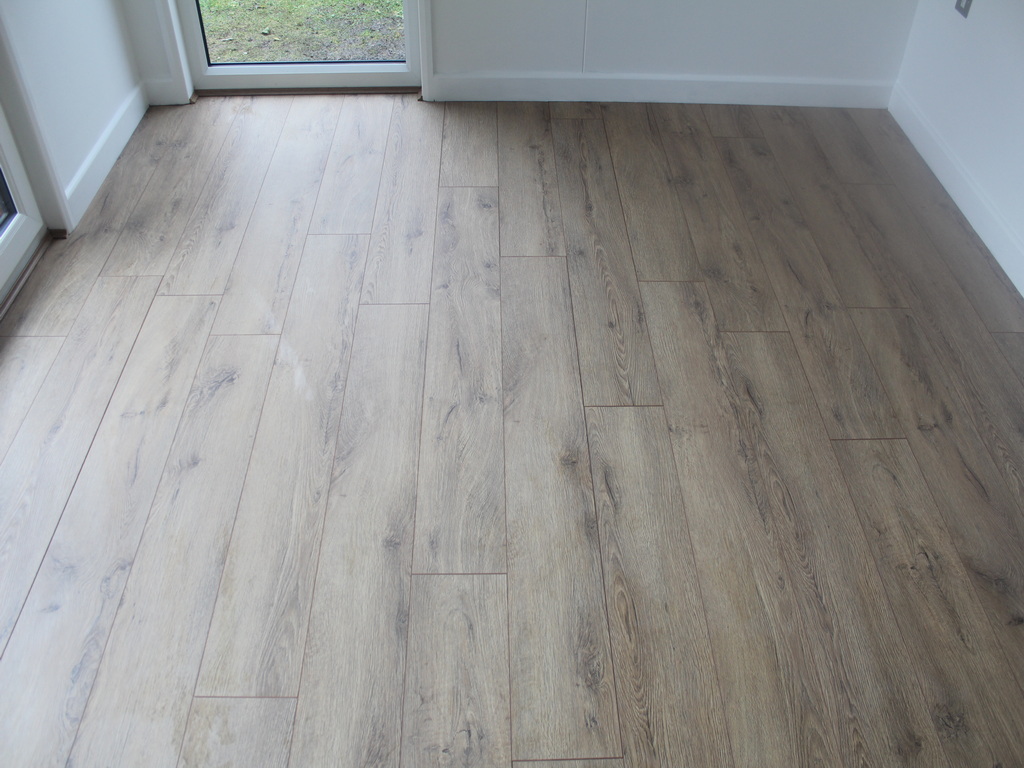 We have installed a high quality 12mm laminate floor.  Many floor options are available including solid wood, gymnasium matting, sound insulating floors and even bamboo!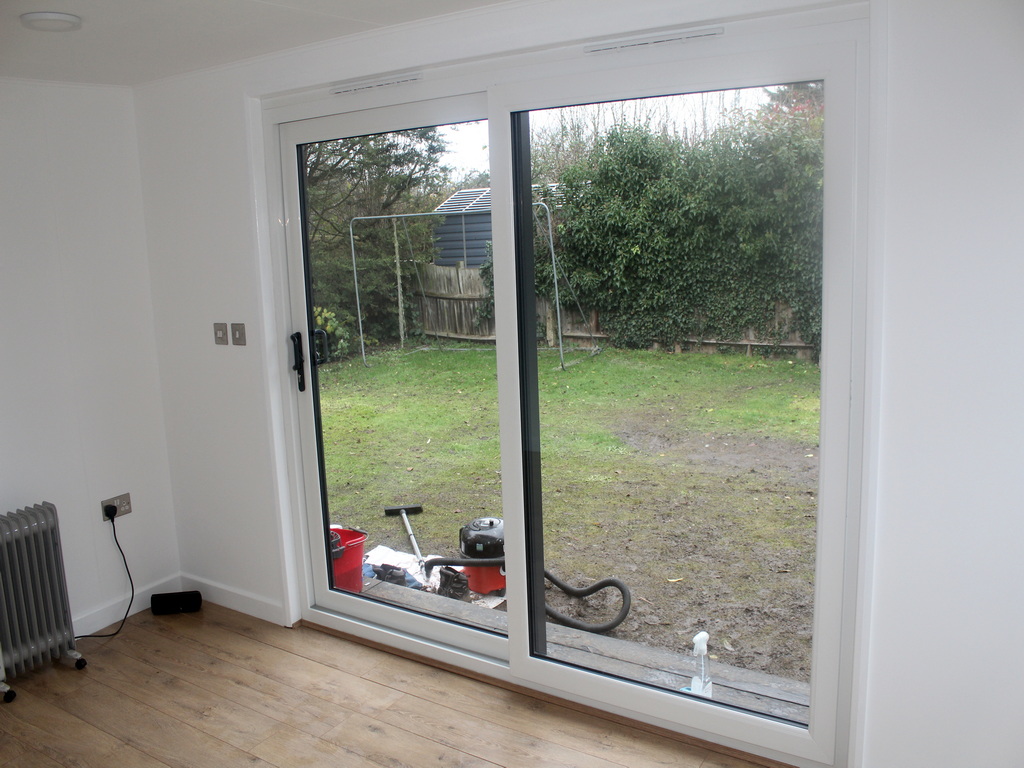 Walls are now painted and second fix electrics are completed, in this example with recessed brushed steel switches and sockets.
Interiors are difficult to photograph so we've added a short video to give you a feel for this 4m x 3m room.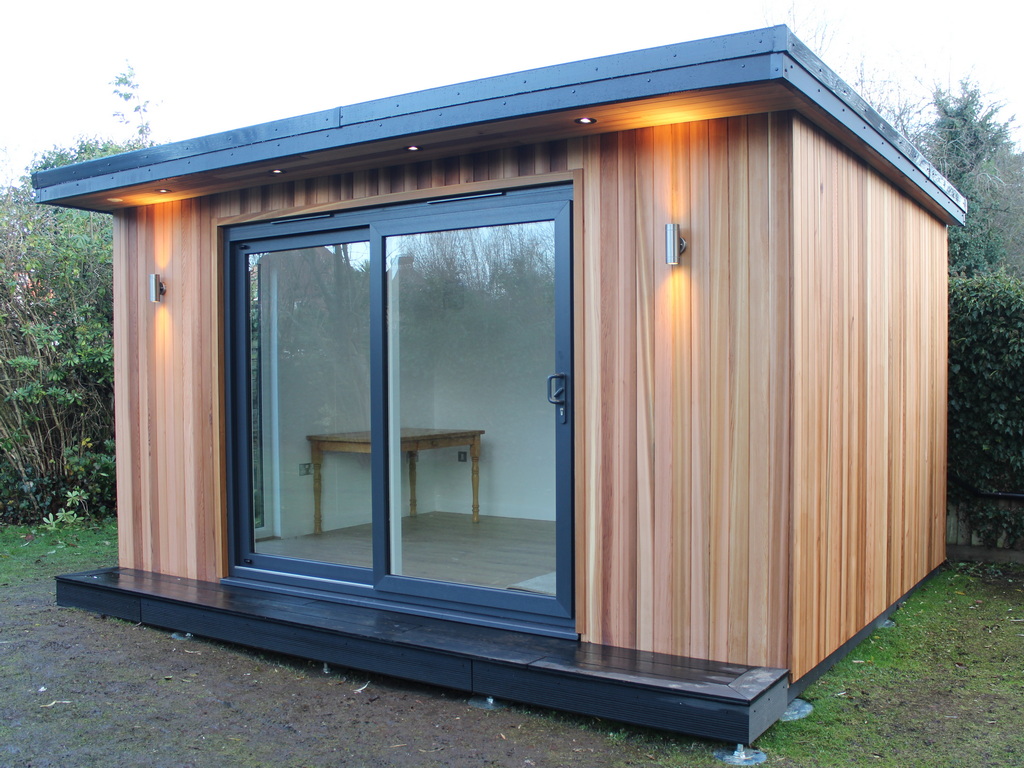 Two exterior up and down lights and four downlights under the canopy have been fitted.  the canopy lights are fitted to a sensor so that they come on when someone approaches.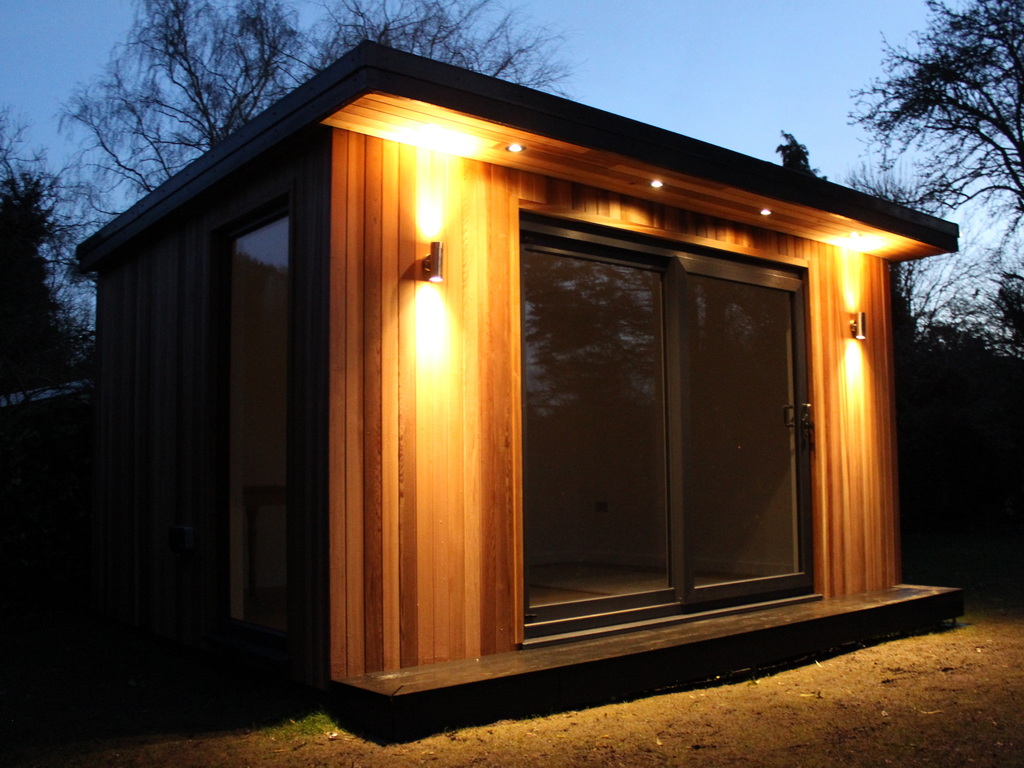 The lighting at night.  The room is now fully usable including a fast internet connection.  The client can now progress with the landscaping side of thier garden redevelopment.
Get in touch or request a call back